Curnutt & Hafer is proud to announce that Douglas Hafer, business trial attorney and co-founder of Curnutt & Hafer, L.L.P., has been selected to membership in the 2017 list of the "Nation's Top One Percent" by the National Association of Distinguished Counsel (NADC).
According to the NADC announcement, members are thoroughly vetted by a research team, selected by a blue-ribbon panel of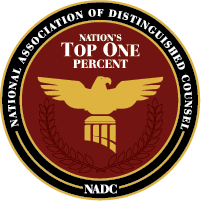 attorneys with podium status from independently neutral organizations, and approved by a judicial review board as exhibiting virtue in the practice of law. Due to the selectivity of the appointment process, only the top one percent of attorneys in the United States are awarded membership in NADC. This elite class of advocates consists of the finest leaders of the legal profession from across the nation.
About the National Association of Distinguished Counsel 
NADC is an organization dedicated to promoting the highest standards of legal excellence. Its mission is to objectively recognize individual attorneys who elevate the standards of the Bar and provide a benchmark for other lawyers to emulate. Visit distinguishedcounsel.org for more information. Follow this link to view Douglas Hafer's NADC profile.
About Curnutt & Hafer, L.L.P.
The team at Curnutt & Hafer provides high-quality representation focused on bottom line results. A recognized business trial practice and listed as a "Go To" litigation firm in the Fortune 500 list of attorneys, they have the know-how and experience to solve every legal problem, whether in the boardroom, the field or the courtroom. Areas of practice include commercial litigation, will disputes and probate litigation, oil and gas litigation, franchising, insurance coverage and bad faith, and injury and death cases. Visit CurnuttHafer.com to learn more.